Click here to experience FFWT on YouVersion Bible App
Fast From Wrong Thinking
---
A few years ago, I was frustrated seeing so many people desiring change in their lives, but never seeing the results they hope for. Out of this frustration, I believe God spoke to me and said, "call people to fast from wrong thinking." In that moment, this movement was born and has literally impacted hundreds of thousands of people around the world! It's a "fast," not from food, but from something that is even more harmful when not kept in check…wrong mindsets and specific thoughts that limit and defeat us.
Experts say it takes 6 weeks to break old habits and form new ones that last. I want to help you discover and obliterate thoughts holding you back from the life God intended for you – a life beyond your wildest dreams.
It's my ALL NEW and revolutionary 40-day Fast From Wrong Thinking devotional. And it will change your life forever. Remember, God's not mad at you, He's mad about you! Order today to see positive change!
"Through the Fast from Wrong Thinking I have never felt so free in my entire life. I am now free from a 31-year addiction, and it's only by the grace of God that I'm alive to share this with you. Before this year, I knew Jesus, but not personally. Now I know God is faithful, and I am going to succeed in making something good out of all the bad."
– Betsy –
"My 19-year-old son had been incarcerated; and while in prison, I had been sending him copies of the Fast from Wrong Thinking. As a result, he rededicated his life to the Lord, and he began ministering to others and leading them to Christ—right in the prison! He and the other inmates love the Fast from Wrong Thinking. Within two weeks, he was released from prison, and the charges were miraculously dropped!"
– Christine –
"You need to know that during the last 40-day Fast from Wrong Thinking, I was completely healed from insomnia after many years. I can finally sleep through the night. I wake up refreshed and renewed! Fasting from wrong thinking has changed everything."
– Samuel –
"Thank God for these revelations and your obedience to share such a powerful tool! It has changed my life in my marriage, my work place, and everywhere I go. I hardly think negative anymore."
– Pete –
Has the Fast From Wrong Thinking Helped You?
Tell Us How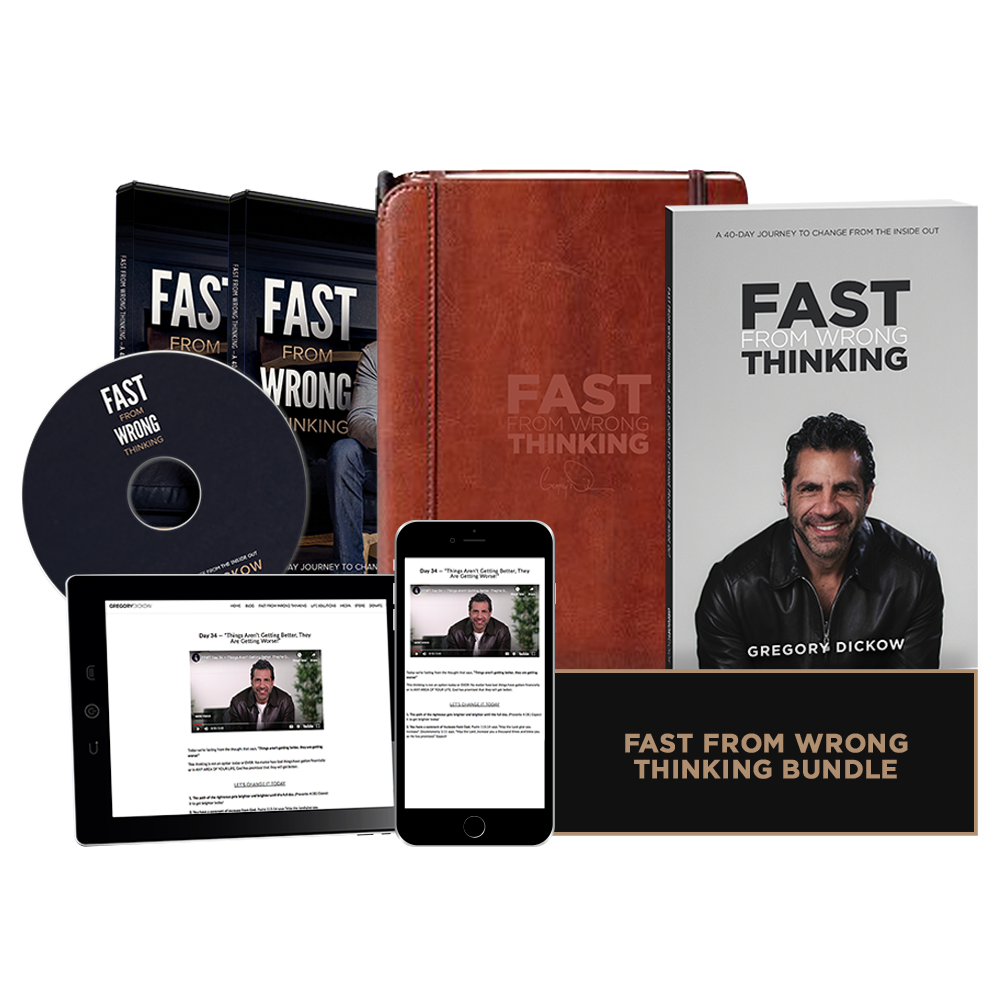 Right thinking produces right living - Start Now!
Already have the Bundle? Get the Book!